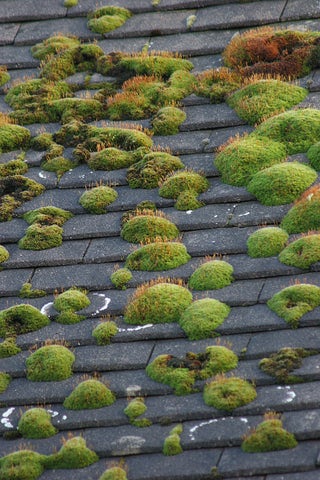 There's a surefire way to destroy your home's curb appeal: allow moss to grow on your roof.
While it might appear harmless, moss can be very damaging to a home. Extensive moss on a roof can damage a home by growing under the roof and loosening the shingles. This traps moisture against roofing materials and causing leaks.

As winter thaws out and we enter spring, chances are you'll see more moss. Seasonal changes often lead to rain. Rain leads to moisture and moisture result in moss. Moss doesn't need much to grow — not soil or a root system. All it needs is shade, moisture and temperatures between 32 and 70 degrees Fahrenheit.

There are a few effective methods of killing moss on your roof. Powders or sprays can be found at your local hardware store. They are sprinkled or sprayed on problem areas. Some of the dead moss will fall off the roof over time while the rest might need a little encouragement. We highly recommend using 30 SECONDS Cleaner on your roof to avoid any serious damage to your home. It's easy to spray for optimal results.

If you're trying your own methods at home, please DO NOT walk on a moss-covered roof. It's likely very slippery and the last thing we want is you falling. You should also avoid using a pressure washer on your roof. It can push water under shingles, sending water into your home. In some cases, the pressure washer might even rip off a few shingles.

Stick to 30 SECONDS Cleaner for the best results and please don't hesitate to contact us with any questions.
We have been manufacturing 30 SECONDS Cleaners for over 35 years. If you have questions, we have answers -- contact us!