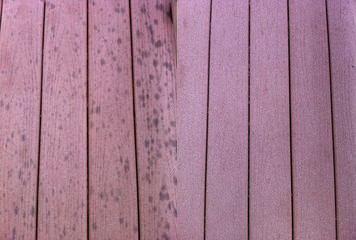 When composite decks first became available, they were marketed as maintenance-free.

However, customers soon discovered composite decks developing stains from algae, mold and mildew — just like wood decks. Since composite decking is made from a combination of recycled plastic and wood fibers, sometimes mold develops inside the decking material. If this happens, no amount of cleaning will clean your deck.
While pressure washing might be a tempting option, it often voids your warranty on composite decks. That's why developed 30 SECONDS Outdoor Cleaner. We wanted an easier way to clean composite decks and keep them looking new. This is how we do it:
How to clean your composite deck:
Sweep away large debris.
Mix 30 SECONDS Outdoor Cleaner concentrate with water 1:1 in a tank sprayer.
Spray mixture on a dry deck and saturate the deck thoroughly.
Gently sweep the deck to clean inside any grooves and let the cleaner work.
Once the deck looks visually clean, rinse with a hose
It's that easy!