We love getting feedback from customers. It helps us improve our products and lets us know we're on the right track. That's why we're thrilled to share several reviews posted on HomeDepot.com. These satisfied customers used 30 SECONDS Outdoor Cleaner on different surfaces but with the same great results.
5 Stars (out of 5)
October 25, 2017
MikeNJax
When I walk past products with a video running to advertise the darn thing, I usually just walk past it since a lot of it seems to be pure hype. At first, I thought the same thing here.
Well, we had 2 out buildings- one of which hadn't been cleaned in over 15 years and if you know about Florida dirt, grime, mildew and mold, you know that it can be near impossible to actually get clean. So I thought that if anything could help clean it, I would give this a decent try. Honestly, I didn't expect much but perhaps a little would come off, but the rest was going to be impossible.
So, I mixed it as indicated in my pump sprayer and proceeded to spray down the older building. Inside of a few seconds, you could actually see the crud dissolving and running off. Now, I pretty much knew that this was also going to need a little help with some of the lichen growing, so I did have the pressure washer hooked up and started working on it with that too. inside of a few minutes, the entire building revealed the true color underneath that was hidden by the crud.
Now, could it have been this clean without the pressure washer? Probably not in this extreme case, BUT I do believe that the cleaner made the entire job a ton easier and no doubt was responsible for cutting off so much of the old, hard, nasty crud. AND I also tested it on some concrete that had a ton of mildew and moss around the hot tub without the pressure washer. Now that was an easy clean as I let it sit for about 3-4 minutes and a simple hose off was all it took.
If you want something that actually works as the "video advertising" says, then take my word that this is as good as it claims.
5 Stars
September 9, 2017
inNEOhio
Two years ago I bought a condo that has a wooden fence around the patio. I have no idea when the previous owner last cleaned and stained the fence, but it was time to be done. I read about this 30 Seconds Outdoor Cleaner when researching products to clean wooden fences before they are stained. I bought a tank sprayer to apply and followed all the directions. The photos will tell the story - excellent product! I did use a toothbrush in tight places to scrub off the mold/mildew, but otherwise it was easy to use. Now to wait for another nice weekend and apply the stain.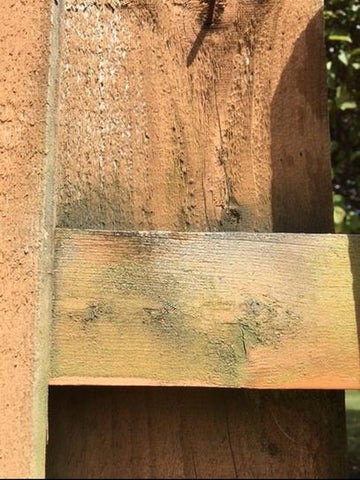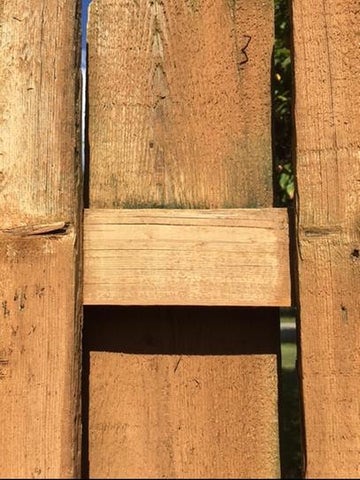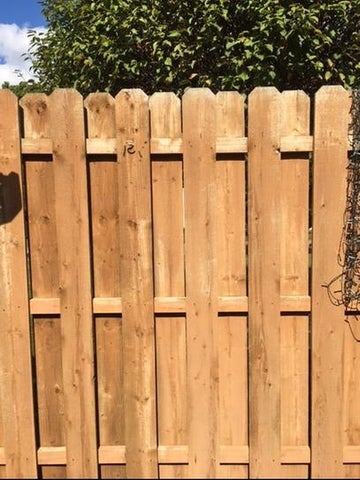 5 Stars
May 10, 2017
Grandma
I am nearly 70 yrs old and scrubbing is out of the question for my aching bones. I sprayed it on my gutters that had black and green areas, on my painted deck, concrete patio and aluminum siding. I only had a few areas that I had to re apply and let set for about 5 minutes. I rinsed it off with a water hose. I could not believe how well this stuff works. I also read reviews about the odor of bleach. There is hint of bleach, but nothing like the smell you get from straight bleach. I will be using this from now on.
5 Stars
April 18, 2017
Wayne
My white soffets were black with mold and dirt...a friend of mine said he tried this and was pleased. I used a tank sprayer at 50/50 mix...sprayed it on the soffet...waited about 45 seconds and sprayed the hose!!!...gotta tell ya...i was amazed,and very impressed. I did it a second time due it being really badly dirty. They are now like new. This product for once actully does what it says....oh and by the way...it does smell..and you will get it sprayed on you but its worth the trouble. Its also plant friendly.
5 Stars
April 13, 2017
Sam

Had serious mold problem on stucco. This product removed the mold completely without scrubbing. Applied product & rinsed. Unbelievable.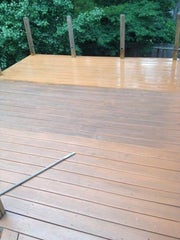 5 Stars
June 26, 2012
Praetorian
My wife found this on a pop-up camper forum for cleaning canvas and thought I should try on the deck. The dirt/mold DISAPPEARED on the deck in less than 30 seconds. I previously had scrubbed with straight bleach in desperation with only marginal results. We used it on canvas too. Great product. NO scrubbing required. Spray, blink your eyes, and wash off. This does contain TSP, so it will dull paint finishes some (perfect for prep of new coat of finish/paint). Picture shows (foreground) scrubbed with bleach, (center) untouched, (distant) 1 minute after applying this product. Wow! Second picture - finished result after rinsing.
5 Stars
April 1, 2013
Agua Dulce, CA
When we installed our redwood deck, we treated it with water seal however after 3-4 years with no subsequent re-treatment, the timber had greyed so we set about refinishing the deck a couple of weeks ago. The first stage involved pressure washing the grey colored deck with water. After this was dry, we then cleaned the deck with 30 Second Concentrate which brightened the wood and helped lift out some of the old water seal. We decided to go with the 30 Second Concentrate after reading the reviews on Home Depot's website and we weren't disappointed. We diluted the 30 SECONDS® Concentrate 50:50 with water and sprayed it on with our deck sprayer and scrubbed it with a long handled nylon kitchen/bathroom brush before rinsing it off with water from the pressure washer. Working in the sun, we worked down the length of the deck planks, treating an area about 24" long and 4-5 deck planks wide at a time. Anymore and the concentrate will soak into the deck planks and you'll spend more time re-spraying the planks to keep them wet as you scrub them. One gallon of concentrate treats about 200 square feet once it is diluted, so we ended up using 1.5 gallons for our 322 square feet deck. The results of the 30 Second Concentrate was a brightening of the deck wood from its pressure washed finish, although it was nowhere near as much of a difference from the first treatment of pressure washing the grey deck wood I was glad we did it as I feel we got the deck wood as clean as we could before re-sealing it. Once this had dried, we applied a coat of Honey Gold tinted water seal using a pump deck sprayer and a 3" chip brush. We applied the water seal working down the deck again along the full length of the planks just as we did with the 30 Second Concentrate cleaner. Our deck used less than a gallon of water seal with the spray and brush method and we were very pleased with the results as it has left our deck looking good as new as can be seen from the before and after pictures. All in all, about a weekend's work.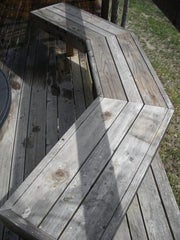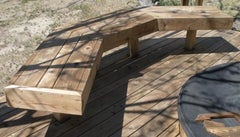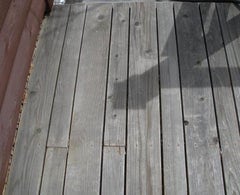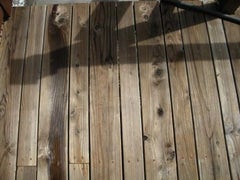 5 Stars
July 26, 2013
zapple
from Virginia, USA
Excellent product. We usually pressure wash our stone patio...what a mess. We have tried mixing the bleach with tsp. with so-so results. 30 second cleaner works for us. Mind you, our stone gets very moldy because of the many shade trees. We just use a bucket and scrub brush. WOW what a difference
5 Stars
August 24, 2010
Homeowner22
from Bremerton, WA
I used the 30 Seconds cleaner for the first time ever on the north side of my house. It' was quiet mossy. The cleaner was so easy to use and rinsed right off with my garden hose. The vinyl siding looks like new. I can't believe how fast it worked and how little I had to do. All these years I've been scrubbing the siding by hand. Going back to The Home Depot today to buy 4 more gallons to do the rest of the house. I would defiantly recommend this product. WOW!!!
5 Stars
September 6, 2011
Dave
from Toledo, Ohio
Home Depot came thru on this product. I was unable to get this product from other sources even though it was shown in their catalogs. Used 30 Seconds cleaner to remove moss from the roof of my utility shed. Tried it on my deck and now I have to finish the job. Made more work for myself. Really cleaned off the mildew on the deck and restored the color to the deck flooring (composite material). I will use this product in the future. I give it 5 stars.
5 Stars
May 15, 2012
Karl
from White Rock, BC, Canada
I used this cleaner to get the green and black stuff off my deck, railings and glass and it worked excellant and it takes very little effort. I also used it to clean algae etc. off my concrete sidewalk and it also worked excellant. I am going to buy some more! Highly Recommended due to price, ease of use but mostly because it works
5 Stars
March 5, 2013
Serenity
This stuff lives up to its name. I sprayed it on and then started scrubbing with a brush. DON'T do that. Just spray and let it do its job. It didn't need my help. In a few places I wiped with a rag, but overall, it did 90% of the work. It cleaned two outside resin chaises that had been sitting behind my shed for 3 years. The dirt had seeped into the resin. I thought I would have to throw them out and buy new ones. This stuff made them look like new and I have saved about $200+