If your white siding is beginning to look a little green, it's time to get rid of that mildew and mold. A quick and effective way to get the job done right the first time is with 30 SECONDS® Outdoor Cleaner.
Here's what to do:
Mix 30 SECONDS Outdoor Cleaner with water 1:1. For example: Mix one gallon of cleaner with one gallon of water to have a two gallons of solution. If you purchased a Ready to Use Formula, then no mixing is required.
Apply 30 SECONDS Outdoor Cleaner when the surface is dry. Saturate the area and once it looks clean, it's time to rinse everything away.

The saturation time will vary depending on the amount of buildup and the porosity of the surface. A few minutes at most is all you need with vinyl siding. Vinyl is so smooth that all the gunk comes off like melted butter when you use our cleaner.
Here's what to avoid:
You always have options with cleaning mold and mildew from your vinyl siding and outdoor furniture. There are a lot of DIY websites that offer home-made recipes for outdoor cleaners. However, it might cause irreversible damage if you use the wrong products. Avoid using any cleaning products like liquid grease remover, nail polish remover or furniture polish. Any of these products could damage your vinyl siding. Also, avoid using highly-abrasive scrubbers or steel wool. These, too, can cause damage.
Here's what to expect with 30 SECONDS® Outdoor Cleaner: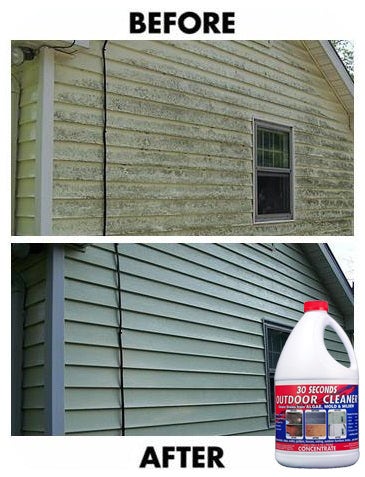 We're always excited to see before and after photos. We want you to send us your 30 SECONDS cleaning project photos. We'll feature them on this blog.

Speaking of before and after photos, this photo has a great customer story. Come back to our blog in a few weeks to read the full story behind the above picture.
One more thing:
We want to hear from you! We have been manufacturing 30 SECONDS® Cleaners for over 35 years. If you have questions, we have answers — contact us!