Thanks to its porous nature, keeping concrete free of stains from algae, mold and mildew can feel overwhelming. It's essential to protect concrete from this growth, along with dirt and grime. Not only is growth and staining unsightly, but it can actually destroy your concrete. Follow these Do's and Don'ts to keep your concrete clean and beautiful all year:
1) DO CLEAN YOUR CONCRETE ONCE PER YEAR AS NEEDED.
Whether its removing algae off your walkway or oil stains from the driveway, it's important to properly clean concrete about once per year. Stains that sit on concrete become harder to remove over time. Lichen, moss, mold and algae are not only unattractive but can also make surfaces slippery and dangerous.
2) DO SELECT THE PROPER CLEANER FOR THE JOB.
Not all cleaners do the same work. For example, the degreaser that lifts oil stains will not work against algae, mold, or mildew stains, and vice versa.
If you're looking to remove efflorescence or the buildup of salts on the surface of the concrete, it's ideal to dry brush the white, powdery substance. The introduction of cleaners or even water can cause more salts to rise to the surface.
3) DO TEST BEFORE CLEANING.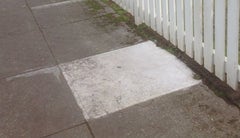 Occasionally, some cleaners could discolor concrete. Always test new products in a small, inconspicuous area before applying to the entire surface. This is especially important when cleaning any treated, stamped or colored concrete. When in doubt, contact the manufacturer for recommendation. Check out the picture to see severe discoloring.
4) BE AWARE THAT CONCRETE IS A VERY POROUS SURFACE.
When cleaning concrete, it's important to use enough cleaner to heavily saturate the surface. You may notice the concrete barely looks damp after just a few minutes. If this happens, apply more cleaner to get into the naturally occurring nooks and crannies.
For concrete with a large amount of growth or has been neglected for several years, it may take more than one cleaning to return the original look of the concrete.
5) DO CONSIDER AN OVERTIME TREATMENT FOR PROLONGED RESULTS.
Once your concrete is clean, it's a good idea to consider a treatment that works over time. These tend to be faster and easier to apply and will prolong the results of your hard work. Save time, money and water by applying a gradual treatment — one to two times per year to prevent new growth.
Alternatively, lichen and moss often respond better to treatment over time. A cleaner will certainly work with a little extra elbow grease. A treatment can kill growth at the roots and has the added bonus of longer lasting results.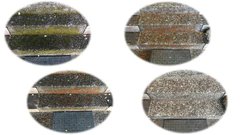 6) DON'T SIMPLY PRESSURE WASH CONCRETE.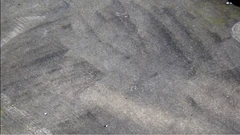 Be careful with your pressuring washer. Incorrect pressure washing forces water into cracks and crevasses, which can break up the naturally occurring surface finish that protects concrete. It can also force spores and growth deeper into those holes — along with a bit of water — to create a nice habitat for unwanted growth. This often results in algae, mold and mildew stains returning even faster than before.

Consider a soft wash for a less abrasive cleaning. Choose a cleaner best suited to the stains you are looking to remove. Apply, brush if directed, and then soft wash away.
Whether cleaning organic growth or oily stains, concrete tends to look better the next day. This is because the water that has soaked into those nooks and crannies can result in a slightly darker look to the concrete. Once it dries out, typically overnight, it will appear even lighter in color. This is especially true with older concrete.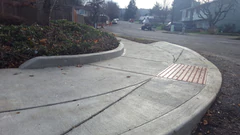 8) DO PROTECT YOUR CONCRETE AFTER CLEANING
Consider sealing your concrete surfaces after they have been properly cleaned. Be sure to research the best product and application for your job and to test it out before sealing the entire area. Consider:
The type of concrete (old, new, stamped, colored, etc.)
What products were used during cleaning and how
What you want the sealer to do (appearance, performance, safety, etc.)
While we may not think about it, we come into contact with concrete every day of our lives. Help preserve your walks, drives and even décor with these tips and your outdoor spaces will look great for years to come.
Have questions about cleaning concrete? Leave a comment below.