What's better than spending summer days and nights outdoors with family? It's the best.

But before you spend time grilling that perfect steak on your patio, take a moment to make sure your outdoor space is looking great and ready to welcome guests. With 30 SECONDS Outdoor Cleaner, it's a quick and easy clean. Here are eight tips to make your outdoor living area shine.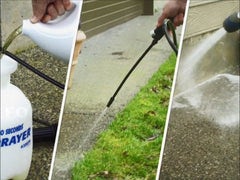 1) Clean winter grime!
Often overlooked, cleaning away the lingering traces of winter grime is an essential part of preparing an outdoor space that your guests will love.
Say goodbye to those ugly stains from Algae, Mold and Mildew with 30 SECONDS Outdoor Cleaner. This part will be a breeze. Simply spray on and wait for the time recommended on the bottle, then hose off. No harsh pressure washing is needed. 30 SECONDS Outdoor Cleaner is perfect for use on: patio furniture, umbrellas, children's play equipment, pool areas, awnings, fences, wooden decks, cement patios, pavers, lanais, composite surfaces, tile and screened porches. 30 SECONDS Outdoor Cleaner easily gets rid of grimy messes without the arduous scrubbing required by other cleaning methods.

You can even use 30 SECONDS Outdoor Cleaner to safely clean dirty pots and planters without harming your delicate plants. Follow the directions on the bottle for correct mixing and wait times for your application. Please remember to test for colorfastness on a small area before using on outdoor fabric and canvas. Like our name says, 30 SECONDS Outdoor Cleaner begins to work in just 30 seconds!
2) Seating!
Pull your seating into a cozy circular arrangement that will encourage conversation. A mix of chairs, cushions, benches and loungers can work well together and give your space the inviting charm.

3) Brighten it up!
A warm pop of summertime color can give life to a boring space. An outdoor rug, a few throw pillows, a colorful candle, a pretty flowerpot, even a decorative item from inside the house can help give a cohesive and fun look. Look for pillows and cushions with a sturdy outdoor fabric to stand up to the weather and elements.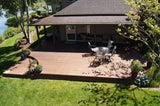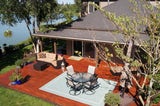 4) Plants!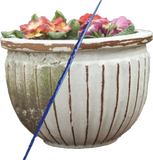 The beauty and color of nature make a perfect backdrop to your outdoor space. Planted in flower beds, around your yard or in containers, flowers and greenery are lovely additions to the overall design. They will attract butterflies and hummingbirds to provide visual interest and create a peaceful atmosphere.
5) Comfort!
Depending on where you live, you might want to shade your guests from the hot sun or provide extra warmth for cool nights — or both! A shade umbrella or awning will help keep your space comfortable and usable on hot days, while a fire pit or outdoor heater will allow you to use your space even when the sun is gone.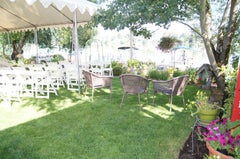 6) Play equipment!
Don't forget the kiddos. If you want your space to be family friendly, think about making everyone feel welcome. The little ones will appreciate having their own area to play in. Incorporate play structures, trampolines or other kid-friendly zones as needed.
7) Pool area!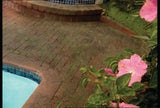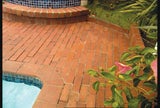 If applicable, the pool area deserves some attention too. You want it to look it's best, but safety is even more important. Keep slippery steps and other walking surfaces clean to avoid falls. Above ground vinyl pools, floaties, pool equipment, covers and pool furniture can be cleaned quickly and easily with 30 SECONDS Outdoor Cleaner.
8) Final touches!
Congratulations on creating a space that your friends and family will be thrilled to spend time in. Complete the space by adding extra touches that will make your space stand out. Music, outdoor lighting and games are all fun additions, and of course, delicious food and beverages are always crowd pleasers. So, go ahead and get to grilling. You and 30 SECONDS Outdoor Cleaner will make this the best summer yet!