Proper care and maintenance of your deck is important to keeping its beauty and longevity. These expert tips will help save you time and money when maintaining your wood deck.
1. DO clean your wood deck once a year
From Southern Pine to Western Red Cedar to exotic hardwoods such as ipe and teak, natural wood decks come in a variety of options. While longevity and color changes from one type to the next, they have the same basic principles in terms of cleaning. Tight-grained natural woods usually boast being "water resistant" to "water tight," but they do have a porous surface that will eventually absorb water and allow a foothold for Algae, Mold and Mildew growth. Without proper cleaning and maintenance, wood decks can and do eventually rot away. The naturally occurring tannins and oils present in the wood need to be protected and preserved if you want your deck to maintain its like-new appearance for years to come.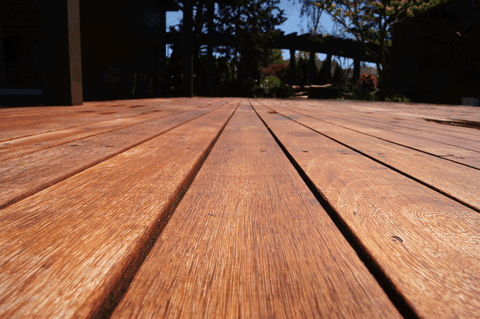 2. Yes, even pressure treated wood needs cleaning once a year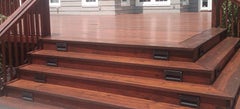 It's no doubt that pressure treated wood is a popular choice — starting with pine or local coniferous tree and then treated with chemicals to increase durability and longevity. Pressure treated wood is economical and lasts longer than natural wood, making it a common deck material across the country. However, without proper cleaning and maintenance, pressure treated decking is prone to warping and can quickly become saturated with continued exposure to moisture, creating an environment for Algae, Mold and Mildew growth.
3. DO clean your composite decking twice a year
Composite decking is sometimes called wood-plastic composite or WPC. While still usually containing some amount of wood, composite decking is a hardy choice that lasts for decades against frequent use and rough elements. Made of some combination of wood material, often recycled fibers sometimes referred to as wood flour, plastics or cements, this option may not feel as nice on bare feet, but it's hardier and lasts longer with proper maintenance. The process of creating these boards results in even color shift, little to no warping and a smoother, slightly less porous surface. Composite materials do not absorb water and are durable to tough wear and tear. Follow the cleaning schedule provided by the manufacturer; most recommend cleaning two or three times per year.
4. DO wait a year before cleaning a new deck
When should you first clean a brand new deck? The quick answer, is that a deck usually won't need to be cleaned after the first year of installation. Of course, spot clean any spills or messes.
5. DO clean your deck before staining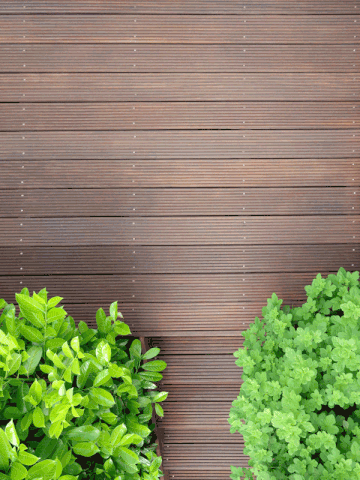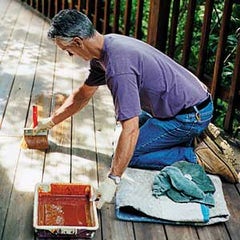 5. DO clean your deck before staining
If looking to stain a deck, regardless of material, clean it first. A new deck typically has mill scale, which is the grain of the wood that has been crushed flat as the boards are milled. Cleaning a newer deck prior to staining removes the mill scale, along with any particles that have settled, all while creating a slightly more porous surface that will let the stain soak into the wood and result in true-to-color, even results.
6. DON'T Panic if your cedar deck is fuzzy
Unlike other types of natural wood decks, cedar boards should be cleaned immediately after installation. Cedar is a very popular choice for decks since it is naturally resistant to rot, decay and insects.
When cleaning a cedar deck with just about any sort of cleaner, it's possible to end up with a white film often called "wood fuzzies" or furring. Furring can occur any time cedar is cleaned but is most seen in two scenarios: in new cedar or with heavily oxidized wood. Heavily oxidized cedar is characterized by a dull, gray appearance. In either situation, it's damaged cells that are lifting up from the boards.
Don't panic, this is normal and will erode away over time. However, if you want to have a bright, beautiful deck when you're done or want to stain after cleaning, then furring may be frustrating.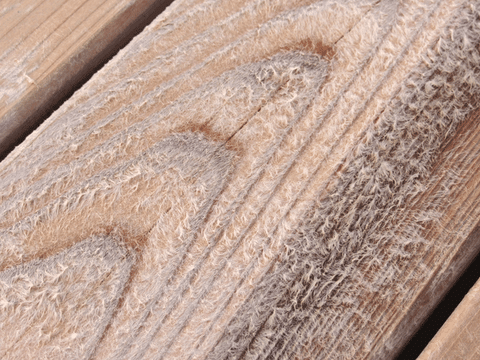 There are a few things to be done to prevent furring in the first place:
Use the suggested concentration only with the cleaners. Stronger isn't always better and can damage and lift more fuzz than proper concentrations.
Rinse, Rinse, Rinse. Cleaners left behind on the wood surface not only mask the results of the cleaning, but also continue to react with the cedar to cause more fuzzing.
If brushing the surface during cleaning, avoid scrubbing and brushes that have hard bristles. Lightly brush to move around the cleaner with bristles no harder than a normal outdoor broom.
Stain after cleaning but while the wood is still wet.
Consider using a wood brightener immediately after cleaning if not planning to stain.
Consider using 30 SECONDS Spray & Walk Away. Since this is a treatment and not a cleaner, it's less likely to raise wood fuzzies.
If it's too late and now you're looking to remove wood furring, follow these steps:
Leave it alone. It will wear away over time.
Use light sanding or buffing once the deck is dry. Do your research, aggressive sanding will only make the fuzzies worse or possibly harm your deck. Many people have success using sanding buffing pads or even a stiff bristled broom.
Do NOT try to use more cleaner to remove wood fuzzies, that will only result in further fraying.
7. DO be leery of pressure washing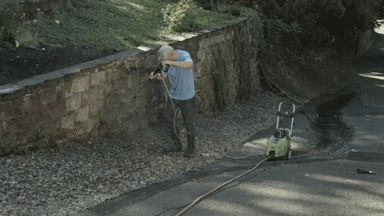 When looking for a fast, relatively instant result, some people turn to the pressure washer. Pressure washing can damage wood, especially softer woods such as cedar. Done incorrectly, a pressure washer can take out landscaping, a window or a chunk of your deck. Even pressure treated wood doesn't stand up well to pressure washing, despite what the name might imply. While composite or synthetic lumber can better withstand the abuse, pressure washing — especially over 1500 PSI — can damage your deck.
Pressure washing can also wreak havoc with spores or "seeds" that Algae, Mold and Mildew grow from. While you can't see it, these microorganisms can get forced into the nooks and crannies of wood and composite decking. In nooks, they have a moist, protective hideout to lay down roots and begin growing. Regrowth occurs almost immediately and begins to become visible a mere few weeks after all your hard work.
Achieving an even, clean finish with pressure washing can also prove quite challenging. Streaking, striping and an overall uneven appearance can often be the result of hurried pressure washing. Without proper tools and a "sweeping" and "feathering" technique, your hard work could result in a blotchy, uneven clean.
With the electricity used and the water wasted, pressure washing is not a very environmentally friendly solution. Between the cost, lackluster results, and risk of damage to the deck, it's no wonder more people are looking for a safer more effective alternative to pressure washing.
8. DO Soft Washing with 30 SECONDS Outdoor Cleaner
Soft washing is a technique using chemical cleaners and light spraying. 30 SECONDS Outdoor Cleaner is a fast, effective way to clean stains off Algae, Mold and Mildew off your deck with minimal time, effort and money. It's specially formulated to penetrate deep into nooks and crannies for a truly deeper clean that you can see. It's a lasting clean that holds up for months without any additional effort. Mix our concentrated cleaner in a tank sprayer or backpack sprayer for a fast, easy clean. Brush lightly if needed, and rinse away with a garden hose.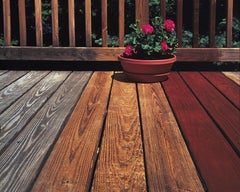 Here is a great video explaining how to use 30 SECONDS Outdoor Cleaner. Fast, safe, and effective, "It's clean when YOU want it clean!"
Proper deck cleaning is important to maintain a safe, healthy home. Whether you're looking to clean your deck as part of basic maintenance or need to create a clean surface to paint or stain, 30 SECONDS Cleaners has the right product for you.