It's patio season. Is your outdoor furniture ready to host friends and family?
Don't feel bad if the answer is "not yet." Outdoor patios take a beating, and it can be hard to maintain that new look — especially if algae, mold or mildew get in the mix. When that happens, cleaning up can become a time-consuming project without the right product.
But we're here to drop some knowledge to make life easier for you.
While outdoor patios are designed with rugged intentions to handle the elements, keeping your patio clean and well-maintained is vital to extending its lifespan.
Concrete and Brick and Planters, Oh My
One of the easiest ways to spruce up your backyard is by cleaning off your concrete or brick patio flooring. 30 SECONDS Outdoor Cleaner offers immediate results on those surfaces and more, including decks, composite, stained surfaces, masonry, gutters, siding, canvas, plastic, stucco, fences, arbors, and painted surfaces.
Does that sound like your backyard? If you're like us and spend a lot of time outdoors, a simple cleaning with 30 SECONDS makes a world of difference. It even removes stains from algae, mold, and mildew.
Protective Patio Furniture Coverings
If you don't want to clean your patio furniture, we recommend buying protective covers and shielding all your patio furniture from the elements. While well-made covers can be expensive to purchase, this ensures your patio furniture won't be as susceptible to the constant bombardment of pollutants, debris, and weather conditions. However, so many people forget to place covers on after use. It's important to get into that habit.
Cushion Up
We want you to be comfortable. But not every cushion stands up to the elements. We recommend acrylic cushions for outdoor settings since they or most resistant to mildew and stains.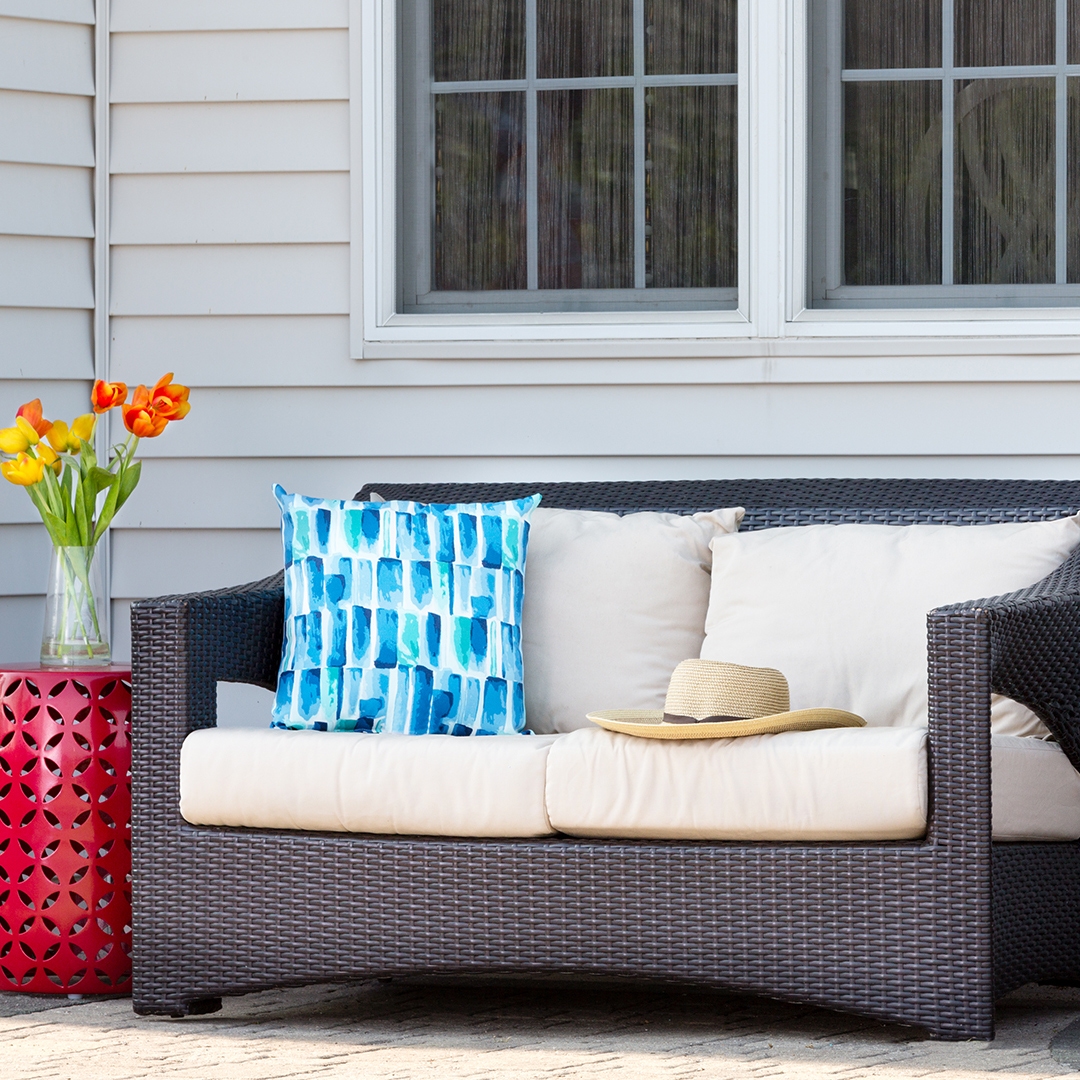 Get Clean
If you don't want to purchase protective coverings, 30 SECONDS Outdoor Cleaner has you covered. If it's outdoors and dirty, it's not a problem. Check out how simple it is to use our 30 Seconds Outdoor Cleaner Concentrate.
Directions
Mix 30 SECONDS Outdoor Cleaner Concentrate 1:1 with water. For example Mix one gallon of cleaner with one gallon of water. One gallon cleans up to 600 square feet of non-porous surfaces.
For patio furniture, metal, cloth, paint, plastic, or fiberglass surfaces:
Test on a small, inconspicuous area first to make sure it's colorfast material.
Spray on a DRY surface.
Keep the surface wet with the product for up to three minutes.
Brush (if necessary) and rinse thoroughly with water within 10 minutes.
That's it. Your patio will look infinitely better. And not only is it an effective cleanser, but it's safe to use around lawns and landscaping when used as directed. It's a simple process.
No Pressure Washer
But our favorite part about 30 SECONDS is you don't need a pressure washer to see these awesome results. You wouldn't believe how many people have reached out to us after struggling to use a pressure washer — whether it's the cost of the sprayer or accidentally damaging their property with a high setting. 30 SECONDS Outdoor Cleaner takes all that guesswork away and gives you fast-acting, instant results.
So go ahead and prep your patio with ease. We're thrilled to help you enjoy your outdoor spaces to the fullest.